Are you looking for some easy and quick breakfast recipes that also offer some health benefits? Well, your search comes to an end, as in this article, we will be discussing the best ways to enjoy frozen croissants for breakfast.
The crispy frozen croissants are usually sweet-flavored with savory fillings and go well with a cup of coffee. With these croissants, you do not have to try a heavy carb-loaded breakfast that also comes with health disadvantages. Try them with different light meal options to get an experience like none other.
Ways to Enjoy Frozen Croissants for Breakfast
Croissant French Toast
People usually prefer having French toast for breakfast which is a great option to consider, but they normally do not know the best part. To get the crispiness, they can swap the bread with a croissant sliced in half lengthwise. This takes your taste buds on an unforgettable journey of flavors.
The gluten-free croissant with French toast can also be served with toppings of fruit compote, whipped cream, or any other cream that you like.
Croffle
Who likes to have waffles when you can have delicious puffles? These are fully stuffed waffles that are made by using the crispy and light puff pastry dough in a waffle iron.
What you can do is stuff the puff pastry dough with filling and make sure to seal it before putting it into the waffle iron. There are several options available for the filling, including chopped chocolate, strawberry jam, and ham dip.
Egg Casserole
We all can agree on one thing! The casserole dishes are the quickest breakfast meal options to consider. You don't have to spend hours thinking about what to have for breakfast.
Try the egg casserole with the croissant that can also be perfect to feed the entire crew. Here's the best part of having the egg casserole. You can even prepare it the night before and enjoy the hot and fresh casserole for breakfast.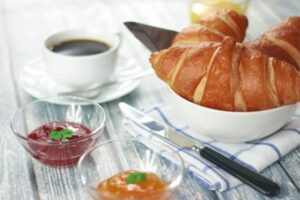 Conclusion
Frozen croissants have a very crispy and crunchy taste, but you can also pair them with the right dishes and find out ways to make them taste better. Frozen and gluten-free croissants pair perfectly with cheese, salted butter spread, jam, yogurt, ham, and bacon.