With summer right next to the corner, are you ready to plan exciting summer parties and gatherings? Make your summer gatherings memorable with some of the best party snacks that go well with everyone. And we know, no one loves summer parties if there are no mangos, right?
To make your parties cheerful, we have come up with the mouth-watering and flavored Bakemart mango mousse cake UAE that is perfect for both small and large gatherings. A perfect party snack that is light as a cloud and perfectly balanced in sweetness to offer an incredible experience to your taste buds.
Good Mangoes Mean A Tasty Cake
Let me ask this, what's better than fresh mango mousse cakes made from well-ripped mangos? Yes, we all know the answer. Nothing!
This cake is indeed a showstopper and tastes far better than it looks.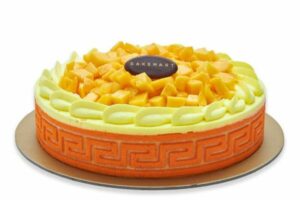 Mangoes are the real stars of this cake as they add a vibrant pop of color, dynamic flavor, and a powerful boost of essential nutrients to the mango cakes Dubai.
No doubt, this is our best-selling product in summer and wildly popular among those who gain tends of compliments at parties and gatherings.
What Is This Mango Mousse Cake Made Of?
Our chefs make this cake with a unique style that only makes them look beautiful but also tastes yummier. They use mango curd with well-ripened mangoes and a vanilla sponge topped with fresh slices of mangoes and cream. This magical combination offers an unforgettable texture and taste.
The bright flavors with delicate sweetness come together with the first bite and make you feel out of this world. This creamy, and sweet cake is actually a must-have item at all your summer parties and gatherings.
Why Try Our Mango Mousse Cake?
Try our light and luscious mango mousse cake and eggless mango mousse cake which are sure to knock your socks off. The thick layer of fresh mango mousse floating on the surface of the cake is a total bliss for mango lovers.
Our expert chefs know that your taste buds always prefer something tasty which is why they have come up with a secret recipe of this cake that is delicate and makes your summer gatherings complete.
We know there are times when you need something customized for your business and this is why we also offer customized cakes for your celebrations and parties. You can select the design, flavor, and color of the cake and let us know the specifications you want on the cake. Our experts will make sure to accessorize the cake as per your specifications to make your celebrations even bigger.
Ending Thoughts
Summer is a perfect time to plan and host parties and gatherings. To make your parties complete, you have to select a party snack that is loved by all and mango mousse cake UAE is the best option to consider. At Bakemart, we also serve Eggless Mango Mousse Cake and Mango Coconut Entremet Cake. So visit our product page and place your order now!
One thing is for sure, you will fall in love with our mango cakes and that's a promise!